As a resident, you will soon discover the benefits of the numerous interconnected trails in the development. Whether biking, blading or walking, you'll enjoy the paths through the Wyndham Hills community. The development supports active lifestyles, whatever your pace.
Trails to Wallin Park
Some of the neighborhood trails lead to the 14+ acre Wallin Park which can be accessed from Northridge Drive and Fallbrooke Drive. Once in the park, you can play on the outdoor basketball court, baseball fields, soccer fields, skating rink, hockey rink and more.
10 Mile Loop Trail
Additionally, Wyndham Hills residents may access many connected trails along roads such as River Shore Drive and General Sieben Drive. These trails are perfect for morning walks or an evening jog. And of course, the extensive bike trail system within the City of Hastings is also easily accessible from Wyndham Hills. In fact, part of the beautiful Hastings 10 Mile Loop runs through the neighborhood. The Loop follows the Vermillion River into town, and then continues to the RiverWalk along the Mississippi River.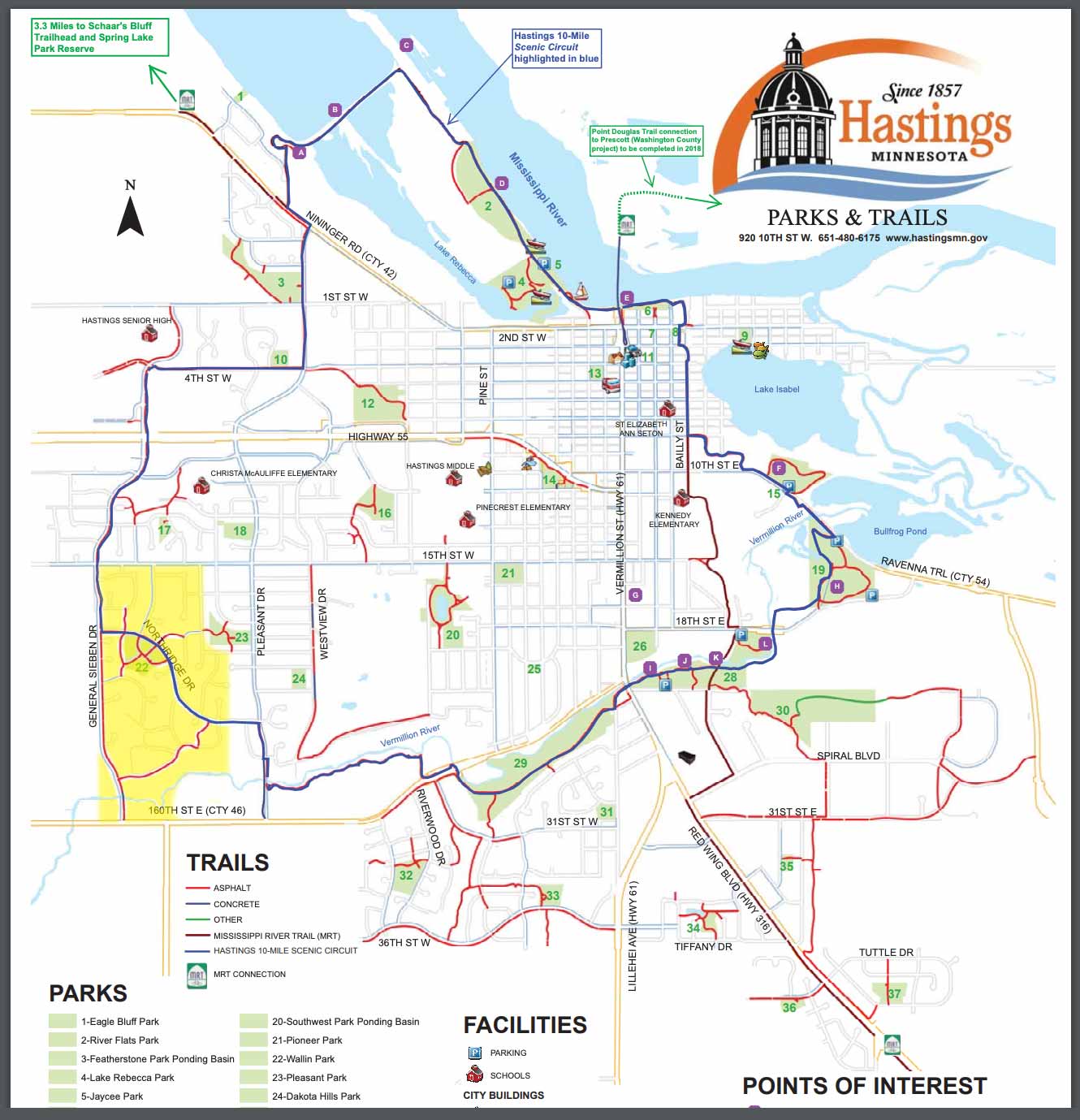 If you want to have a day of biking with your family, click on the button below to download a PDF map of trails and parks in the Hastings area. The map is provided by the Visit Hastings MN website.
Where Nature and Community Meet
Wyndham Hills is where "Nature and Community Meet." On any given day, you can leave your house and take a nice long walk on the interconnected trails, quiet surrounding streets and sidewalks. Along the way you will see beautiful trees, river and pond views, the scenic and picturesque valley views. If you time it right, you can take in a sunrise or sunset as well. It's all yours to enjoy in Wyndham Hills. Go at your own pace and take in the beauty of the surrounding nature, while connecting with neighbors and friends along the way.
https://wyndhamhillsmn.com/wp-content/uploads/2020/08/InterconnectedTrails_WH.png
318
845
Albi4Wyndham
https://wyndhamhillsmn.com/wp-content/uploads/2020/05/logo.png
Albi4Wyndham
2020-08-20 09:30:00
2020-08-21 00:43:29
Interconnected Trails in the Development